Choosing the Right Kind of Landscape Maintenance Firm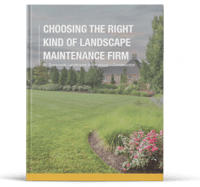 A standard landscape maintenance company should be able to keep your lawn and gardens looking neat and presentable. But is neat and presentable enough for you? More importantly, is it enough for your gardens?
If you want want to enjoy a deeply personal experience when you step into the privacy of your backyard, or see the architecture of your home framed by welcoming front yard landscaping when you arrive at the base of your driveway--this Ebook is for you.
Here is what you will find inside:
Why great landscape design depends on great landscape maintenance to fulfill its potential
Six reasons landscapes fail to reach their full expression
Key questions to ask before signing a contract for landscape maintenance services
The difference between a conventional and a horticulturally-driven landscape maintenance firm